In today's globalized world, the boundaries between cultures are becoming increasingly blurred. Nowhere is this more evident than in the realm of food. Border cuisine, also known as fusion cuisine, combines elements from different culinary traditions to create unique and tantalizing dishes. These dishes serve as a testament to the rich tapestry of cultures that coexist in border regions. In this article, we will explore some must-try local dishes that showcase the fusion of cultures in these border regions.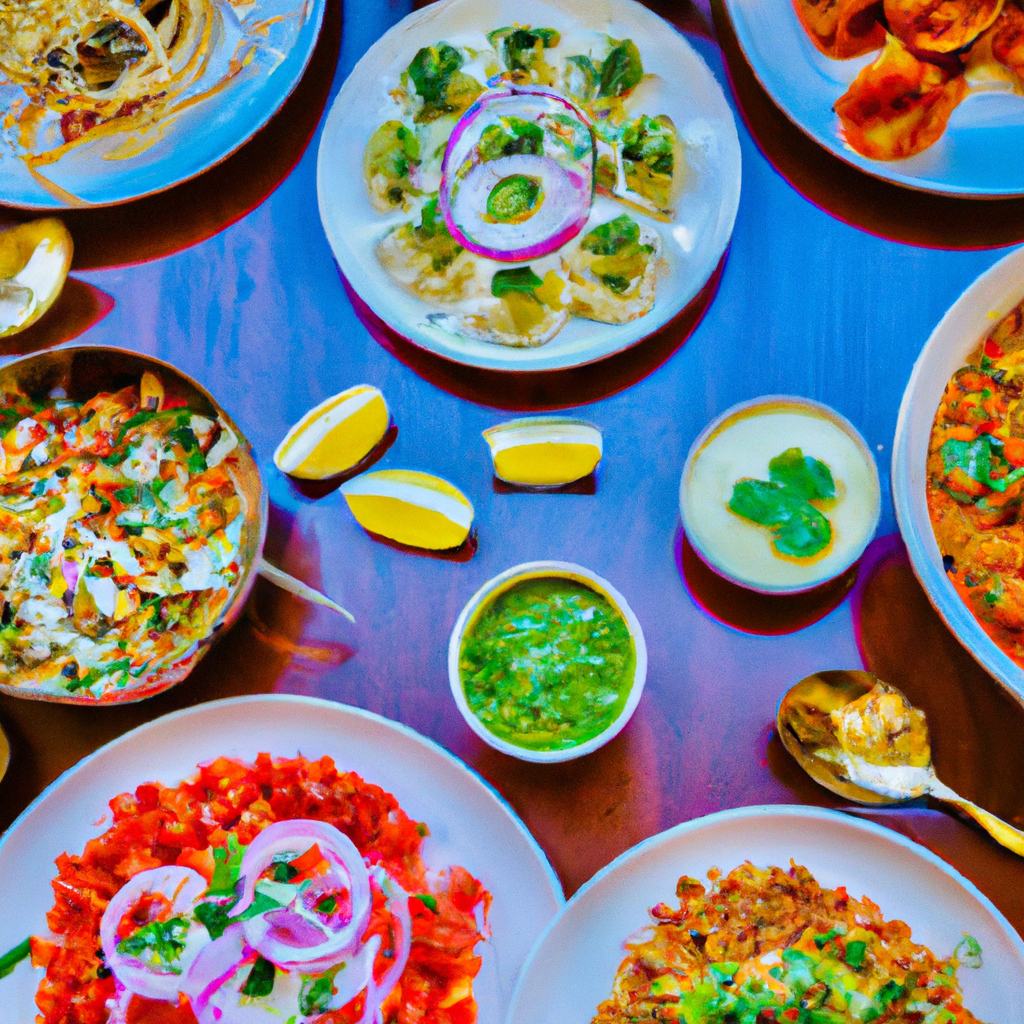 1. Tacos al Pastor: A Mexican-Middle Eastern Delight
A blend of flavors that will leave you craving for more
Tacos al Pastor, a popular street food in Mexico, is a perfect example of the fusion of Mexican and Middle Eastern flavors. This mouthwatering dish features marinated and spit-roasted pork, reminiscent of the Middle Eastern shawarma. The pork is often seasoned with a variety of spices, including achiote, cumin, and garlic. Served on a soft tortilla and topped with pineapple, cilantro, and onions, these tacos offer a burst of flavors that will leave you craving for more.
2. Pad Thai Pizza: A Thai-Italian Fusion
A delightful combination of two beloved dishes
Pad Thai, a classic Thai stir-fried noodle dish, meets pizza in this innovative fusion creation. The Pad Thai pizza combines the tangy and savory flavors of Pad Thai with the crispy crust and gooey cheese of an Italian pizza. Topped with shrimp, bean sprouts, crushed peanuts, and a drizzle of lime juice, this fusion dish is a delightful combination of two beloved dishes from different corners of the world.
3. Kimchi Quesadilla: A Korean-Mexican Fusion
A harmonious marriage of flavors
Kimchi, a staple in Korean cuisine, takes center stage in this unique fusion dish. The kimchi quesadilla combines the spicy and tangy flavors of kimchi with the gooey melted cheese and crispy tortilla of a traditional Mexican quesadilla. The result is a harmonious marriage of flavors that will leave your taste buds dancing. This dish is often served with a side of sour cream or a spicy dipping sauce to add an extra kick.
4. Sushi Burrito: A Japanese-Mexican Delicacy
A marriage of convenience and flavor
The sushi burrito is a prime example of how two seemingly unrelated cuisines can come together to create something truly remarkable. This fusion dish takes the concept of a sushi roll and transforms it into a larger, handheld burrito-like format. The sushi burrito typically contains sushi rice, raw fish or cooked protein, a variety of vegetables, and a drizzle of soy sauce or spicy mayo. The result is a portable and flavorful meal that combines the best of both Japanese and Mexican cuisines.
5. Currywurst Pizza: A German-Italian Fusion
A creative twist on traditional favorites
Currywurst, a popular German street food, meets pizza in this creative fusion dish. The currywurst pizza combines the smoky and spicy flavors of currywurst sauce with the crispy crust and melted cheese of an Italian pizza. Topped with sliced sausages, onions, and a sprinkle of curry powder, this fusion creation is a delightful twist on two beloved favorites.
6. Japadog: A Japanese-Canadian Fusion
A hot dog with a twist
Japadog, a street food sensation in Vancouver, Canada, is a perfect example of the fusion of Japanese and Canadian flavors. This unique hot dog creation features a grilled sausage topped with a variety of Japanese-inspired toppings, such as teriyaki sauce, seaweed, and wasabi mayo. The combination of savory and umami flavors with the familiar comfort of a hot dog makes the Japadog a must-try for food enthusiasts.
7. Churro Ice Cream Sandwich: A Spanish-Mexican Delight
A sweet treat that combines the best of both worlds
Churros, a traditional Spanish dessert, get a Mexican twist in this delectable fusion creation. The churro ice cream sandwich combines the crispy and cinnamon-sugar coated churro with a generous scoop of Mexican-inspired ice cream flavors, such as dulce de leche or Mexican chocolate. This sweet treat is the perfect marriage of textures and flavors, offering a delightful combination of warmth and cold, sweetness and spice.
In conclusion, border cuisine represents the beautiful fusion of cultures through food. From tacos al pastor to churro ice cream sandwiches, these must-try local dishes showcase the creativity and ingenuity of chefs who blend culinary traditions to create unique and unforgettable dining experiences. By embracing the fusion of cultures, we can expand our culinary horizons and celebrate the diversity that makes our world so vibrant. So, next time you're looking for a culinary adventure, be sure to indulge in these delectable border cuisine creations that are guaranteed to leave a lasting impression.